Road to war? Israel steps up airstrikes, mobilizes troops along Gaza border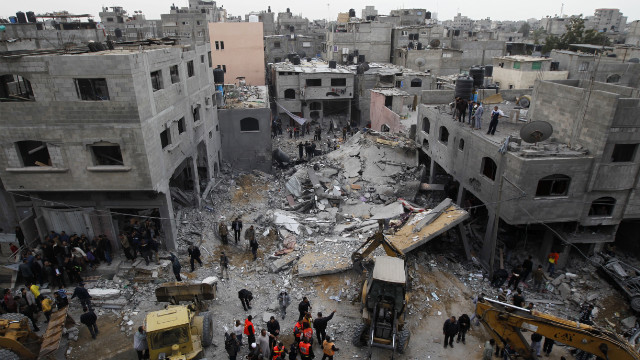 Israel hammered the headquarters of the Hamas-run government in Gaza and massed its troops and tanks near the border of the besieged Palestinian territory Saturday, raising the specter of an imminent ground invasion.
The mobilization follows news Friday that the Israeli government authorized the call up of 75,000 reservists, the latest move in Israel's days-old military campaign to stop daily rocket attacks from Gaza. The conflict took a grim turn on Friday when rockets fell on Jerusalem, Israel's seat of power.
"We are in the process of expanding the campaign," Brig. Gen. Yoav Mordechai, an Israel Defense Forces spokesman, told Israel's Channel 2.
Convoys carrying tens of thousands of Israeli soldiers rolled toward the Gaza border Saturday, part of what the IDF described as 30,000 troops that were being mobilized along the Israeli-Gaza border.
Israeli warplanes Saturday leveled the Palestinian Cabinet headquarters where a day earlier Egyptian Prime Minister Hesham Kandil met with Hamas officials, according to Hamas TV.
The strikes targeted the office of Prime Minister Ismail Haniyeh, the Hamas Ministry of the Interior, a police compound and a Hamas training facility, according to a statement released by the IDF.
World leaders and the United Nations have called on Israeli and Palestinian governing bodies to show restraint, fearing at the very least a possible repeat of Israel's 2008 invasion that left at least 1,400 people dead.
Eight people were killed in Israeli airstrikes in Gaza on Saturday, raising to 39 the number killed since Israel's military operation, dubbed Pillar of Defense, began Wednesday, according to Palestinian government and health officials. Israel is reporting three deaths from a Hamas rocket attack in the southern community of Kiryat Malachi and at least nine injuries, including three soldiers wounded in a rocket attack.
More than 330 in Gaza have been wounded since Wednesday, according to Palestinian health officials.
For days, Israel has been using airstrikes to target what it describes as rocket-launching sites operated by Hamas and other militant groups. Israel airstrikes have hit more more than 830 targets in Gaza since the operation began, the IDF said.
The constant din of drones could be heard at the border, where a CNN television crew observed an Israeli forward reconnaissance patrol set up behind a tree line to avoid incoming rockets from Gaza.
"Overnight, the IDF targeted a terror activity site in the central Gaza Strip, deliberately located and hidden inside a mosque, in the vicinity of a school," the IDF said, accusing Hamas of using "the Palestinian civilian population as a human shield."
It was unclear from the statement whether the mosque was targeted in the airstrike. The IDF did not immediately respond to a CNN request for comment, and Palestinian officials did not identify the destruction of a mosque in its latest list of buildings and facilities damaged and destroyed in the Israeli airstrikes.
Palestinian militants, meanwhile, launched a barrage of rockets at southern Israel, including four that hit the coastal community of Ashdod, the IDF said.
One of the rockets hit a house and another landed near a kindergarten, the IDF said. There were no immediate reports of casualties.
Among the airstrikes on Saturday, Hamas accused Israeli warplanes of hitting an apartment building in the northern Gaza community of Jabalia Camp, killing at least three people and wounding more than 30, according to Hamas-run al Aqsa TV.
Footage broadcast by al-Aqsa showed people clamoring over smoking ruins, searching for survivors.
From northern Gaza, Mohammed Sulaiman said he could hear bombs intermittently falling from Israeli warplanes as well as rockets periodically whistling toward Israel.
"The situation is totally dangerous here, and it is not safe to be out in the street," Sulaiman said.
iReporter captures wailing sirens warning of rockets in Jerusalem
The IDF said around 400 rockets launched from Gaza had hit Israel since midweek, while 230 of those were intercepted by its missile defense system.
Among the rockets fired Friday were two that targeted Jerusalem, setting off air raid sirens. The rockets struck an open area south of the city, with Hamas claiming responsibility for firing the rockets toward Jerusalem.
Sirens sounded, too, in Tel Aviv, prompting people to scramble for cover, witnesses said.
No damage was reported, but Israelis consider the attacks on its major population centers to be an escalation, said Israel's ambassador to the United States Michael Oren.
Israeli authorities said the military campaign has hit more than 600 targets for what it calls terror activity and stifled rocket launches out of Gaza, a claim denied by Hamas' military wing.
Photos: Deadly attacks in Gaza, Israel
So far, Israeli tank units and troops have stayed outside Gaza. But a senior U.S. administration official familiar with U.S.-Israeli talks in recent days said the United States unequivocally supports Israel's right to self-defense, but the U.S. message is for Israel not to invade Gaza.
"Escalation is what we are concerned about. We don't want it to escalate to the point where Israel feels it has to take additional action, specifically ground force action," the official said.
Chief among U.S. and European concerns is Egypt's possible reaction to an Israeli ground invasion.
"What action would Egypt take? Would they move into the Sinai?" the official said.
A large part of the concern is over the fate of the Camp David Accords, the 1979 peace treaty between Egypt and Israel that is considered critical to the region's stability.
Egypt has strengthened its relations with Hamas following the overthrow of President Hosni Mubarak, and President Mohamed Morsy sent his prime minister to meet with Hamas officials in Gaza on Friday.
Egypt's Cabinet chief, Mohamed Refa'a al-Tahtawi, said Friday the peace treaty was safe.
"But respecting a peace treaty does not mean to stay idle or indifferent to what is going on along our borders," he said.
While the United States, Britain and Germany have said Hamas bears the brunt of the blame for the current crisis, Morsy put it squarely on Israel: "Egypt will not leave Gaza alone, and what is happening there is a blatant aggression against humanity."
Israeli: 'How would you feel if your children were constantly scared?'
Tunisia, meanwhile, is the latest country to lend its voice to a growing chorus of a predominantly Arab-led denouncements of Israel's airstrikes, with Tunis sending a delegation Saturday to Gaza to reiterate its "unconditional solidarity" with the Palestinian people.
The Tunisian delegation, led by Foreign Minister Rafik Abdessalem, got a first-hand look at the destroyed Palestinian Cabinet headquarters and visited the main hospital in Gaza City, according to al-Aqsa TV.
Protesters, meanwhile, took to the street in the West Bank village of Bait Omar to protest the Israeli airstrikes.
Roughly 100 of the demonstrators attempted to march out of the village but were stopped by Israeli soldiers, who fired stun grenades and tear gas.
"When we see pictures coming out of Gaza, we feel their pain. Their pain is our pain," said a protester, who identified himself only as Mohammed.
Watch: Senior Hamas member on strikes in Gaza
In Ashkelon, about 17 kilometers (10 miles) north of Gaza, local officials said on Friday that rocket strikes had increased dramatically in recent days. Such attacks are nothing new for residents accustomed to hunkering down in bunker rooms, but the emptiness of the town's marina and streets suggested the uptick had left people on edge.
"It is really frightening," Shiraz Wieselhof said. "I cannot sleep at night."
Comments
comments