Judge allows pardoned Mississippi murderers to remain free — for now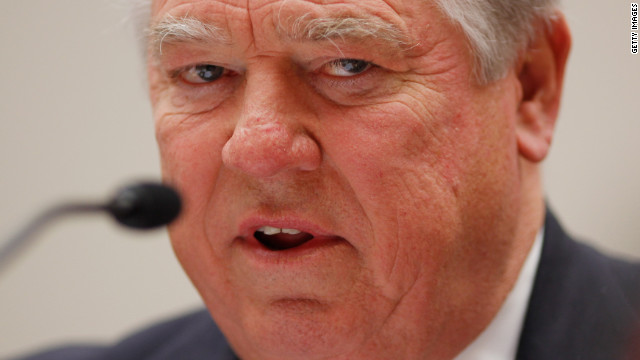 Jackson, Mississippi — A Mississippi court ruled Monday that there will be no change in conditions set for the four convicted murderers pardoned earlier this month by then-Gov. Haley Barbour, at least until a hearing February 3.
The four men can remain free but still have to check in with authorities daily, Hinds County Circuit Judge Tomie Green ruled. Mississippi Attorney General Jim Hood had indicated previously that he wants the pardoned convicts to be imprisoned again, though members of his office did not specifically make that request Monday in court.
"The court will grant an extension for an additional 10 days," said Green, who on January 11 had set the conditions for the pardoned convicts and granted a request from Hood for an injunction forbidding the release of any more prisoners pardoned or given clemency by Barbour.
Three of those men — David Gatlin, Charles Hooker and Anthony McCray — appeared in the Jackson court for Monday's hearing, along with an attorney who is representing all of them.
Another murderer who was also released January 8 from prison, Joseph Ozment, was not in the courtroom.
"We have not been able to locate (Ozment)," Assistant Attorney General Bridgette Wiggins said in court Monday. "His whereabouts are unknown."
Green assented Monday to a request from the attorney general's office to add five more convicts pardoned by Barbour to the list who must check in with authorities and could be ordered back to prison.
They include Kirby Glenn Tate, who was convicted on drug charges; Azikiwe Kambule, for being a murder accessory; Joshua Howard, for statutory rape; Katherine Robertson, for aggravated assault; and Aaron Brown, for murder.
All were among the 203 people found guilty of a variety of crimes to whom Barbour granted "full pardons" — meaning the convict's record is effectively wiped clean — as he closed out his second term as governor.
That move stirred outrage among relatives of the pardoned murderers' victims, among others. Hood has been particularly outspoken, earlier this month calling the pardons "a slap in the face to everyone in law enforcement and (saying) Gov. Barbour should be ashamed."
The attorney general continued his criticism of Barbour in an interview last week with CNN.
"He's just not shown any respect or concern for the victims in these cases," Hood said. "We have victims' rights in our constitution, just like a person charged with a crime, has rights. so, he hasn't shown very much regard or concern for the victims out there."
In court on Monday, Wiggins, from Hood's office, said, "These individuals still present a threat to the public."
Thomas Fortner, an attorney representing Gatlin, Hooker, McCray and Nathan Kern — the latter being a man, who was also in court Monday, who is serving a life sentence for burglary before being pardoned by Barbour — argued Monday that the pardons are valid.
On Friday, Fortner filed a motion on behalf of his clients asking the judge to "disqualify the Mississippi Office of Attorney General" from the case.
The motion states that Assistant Attorney General David Scott worked with the then-governor's office to post notice of the pardons. It adds that Scott, specifically, "is certain to be a witness … and has already been subpoenaed to testify" in upcoming court proceedings.
These notices are key to the attorney general's case, with Hood saying earlier this month that his office's "preliminary investigation indicates that the majority of these purported pardons did not have sufficient publication." He said that evidence will be introduced to this end on Monday, at which point "we will … ask the court to hold these purported pardons null and void."
The pardoned murderers' motion contends that Hood and his entire office "should be disqualified" from the case, comparing it to what might happen if a law firm had one of its attorneys as a witness.
Responding to the motion, Hood said Monday that "these allegations have absolutely no merit and we will argue them in court at the proper time."
"Mr. Fortner's last-minute motions boil down to nothing more than an attempt by these convicts to say the governor is above the law," the attorney general said.
Green ruled Monday in favor of the attorney general, saying "at this time, (his office) is not disqualified"from the case.
Less than two weeks ago, the same Hinds County judge issued the injunction because it appeared some pardons did not meet the procedural requirement that pardon requests must be published 30 days prior to being granted. At the hearing, the inmates must prove they met the 30-day publication requirement.
Barbour said January 11 — the same day of Green's first ruling — that some people misunderstood the clemency process.
"The pardons were intended to allow (the inmates) to find gainful employment or acquire professional licenses as well as hunt and vote," Barbour said. "My decision about clemency was based upon the recommendation of the Parole Board in more than 90 percent of the cases."
Mississippi's new governor, Phil Bryant, last week ended the practice of inmate trusties working for the governor.
"As governor, Bryant first discontinued the practice of inmates spending the night on the mansion grounds and then the tradition of pardoning those individuals," said the governor's spokesman, Mick Bullock.
Comments
comments