Hollywood arson suspect pleads not guilty to 100 counts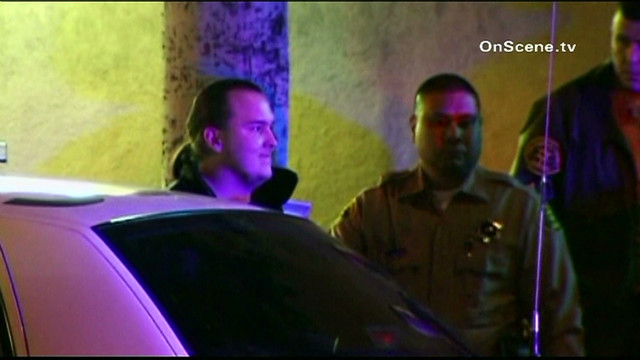 Los Angeles — A German national accused of setting one of the worst arson sprees in the history of Los Angeles entered a plea of not guilty during an arraignment hearing Tuesday.
Prosecutors added 63 new counts of arson Tuesday, bringing to 100 the number of felony charges against Harry Burkhart in connection with 49 fires across the city around the New Year's holiday.
The judge reset Burkhart's bail at $7.5 million in light of the added charges. It was previously set at $2.85 million. Investigators hold his German passport, as well.
Burkhart's next court appearance is scheduled for March 1 before Los Angeles County Superior Court Judge Michael Pastor, the same judge that presided over last year's involuntary manslaughter trial of Dr. Conrad Murray, Michael Jackson's personal physician.
Prosecutors say the spree of intentional blazes, which unnerved much of the city, was motivated by Burkhart's "rage against Americans" after his mother was arrested on an international arrest warrant.
The 24-year-old made his second formal appearance before a Los Angeles judge Tuesday afternoon for his arraignment. He was barely responsive to the judge during his first appearance earlier this month.
During that hearing, Burkhart appeared unable to stand on his own. Three deputies tried to steady him as he seemed to be leaning back with his eyes closed. Burkhart was wearing a special "suicide gown" designed to prevent him from harming himself, according to one of the deputies who escorted him.
The fires began after police arrested his mother, 53-year-old Dorothee Burkhart, during a traffic stop December 28, authorities have said.
She was the subject of an international arrest warrant issued by a district court in Frankfurt, Germany, said court spokesman Gunther Meilinger, and is wanted on 16 counts of fraud and three counts of embezzlement.
A sworn affidavit from a Los Angeles arson investigator detailed Burkhart's behavior a day before the fires began, when he was in a federal courtroom during extradition proceedings for his mother.
"While in the audience the defendant (Burkhart) began yelling in an angry manner, 'F–k all Americans.' The defendant also attempted to communicate with his mother who was in custody. Shortly thereafter, the defendant was ejected from the courtroom by Deputy U.S. Marshals," investigator Edward Nordskog wrote in the affidavit.
A day later, on December 30, the arson fires began.
"The defendant set the fires by placing an incendiary device under the engine area of the cars," Nordskog wrote in the affidavit.
"It is my opinion that the defendant's criminal spree was motivated by his rage against Americans and that by setting the fires the defendant intended to harm and terrorize as many residents of the city and county of Los Angeles as possible," Nordskog wrote.
No one was hurt in the fires, but property damage costs are likely to reach $3 million, authorities said.
Comments
comments